At Movens VC, our focus is on scalable and innovative solutions based on SaaS and marketplace models with the potential to become industry leaders. We are excited to tell you that we've invested in a company already leading the way in an emerging market of synthetic data for AI training. In August, together with High-Tech Gründerfonds, we invested a joint $1.2 million in SKY ENGINE. Let us show you why — here's all you should know about SKY ENGINE's evolutionary solution and its disruptive global potential.
##The product
Undoubtedly, AI has already started to revolutionize multiple industries. Deep learning algorithms are at the forefront, with a wide range of capabilities, including image recognition, space mapping and anomaly detection. Thus, they excel in many uses — like autonomous mobility, medical diagnostics, sport analytics, agriculture, machine inspection, and even ensuring safety during the COVID-19 pandemic.
However, there are still significant obstacles for faster and broader adoption of deep learning methods for computer vision — the necessity to obtain high-quality data (from neural networks perspective) for the algorithm to train. Moreover, vast amounts of data need to be gathered in the real world and painstakingly labeled. While in some cases, companies could lower labour costs associated with labelling through outsourcing elsewhere still, in many cases, real-life data is not feasible and too complex or costly to acquire. Worse, the issue isn't alleviated by scale.
One of the most illustrative examples is the use of AI in medical imaging. While there is a great progress with AI-assisted interpretation of X-ray images and other diagnostic modalities, collecting and structuring the data is still challenging. Especially so, in cases of endoscopic footage of patients' internal organs — costs and time associated with collecting, labelling and curating such data pose significant barriers to adopting AI in this field.
SKY ENGINE tackles this challenge by training the AI models in a virtual environment prior to the real-world deployment creating high-quality synthetic data that can be effectively used for training computer vision at a fraction of the cost and effort associated with the use of real-world data. Synthetic data for training AI models has been considered for quite some time, but technology could never be proven to be as good as the real thing, just until recently (to learn more about synthetic data read a great blog post: https://skyengine.ai/se/skyengine-blog/72-what-is-synthetic-data).
Because a computer generates synthetic data, it is precisely labelled, and it can also produce a large number of images and ground-truths per second. Synthetic data can be also created in real-time, while the cost is many orders of magnitude lower.
SKY ENGINE AI offers a SaaS solution that is creating a digital twin of any sensor, drone or robot and putting them through testing and training in a virtual reality prior to real-world deployment. Moreover, data from the real world is merely a snapshot of the real environment. But with synthetic data, you can do much more — add particular use cases, unusual conditions, and specific events to the simulated scene. It is very efficient way to quickly generate a large amount of already labelled, well-balanced and diverse footage datasets.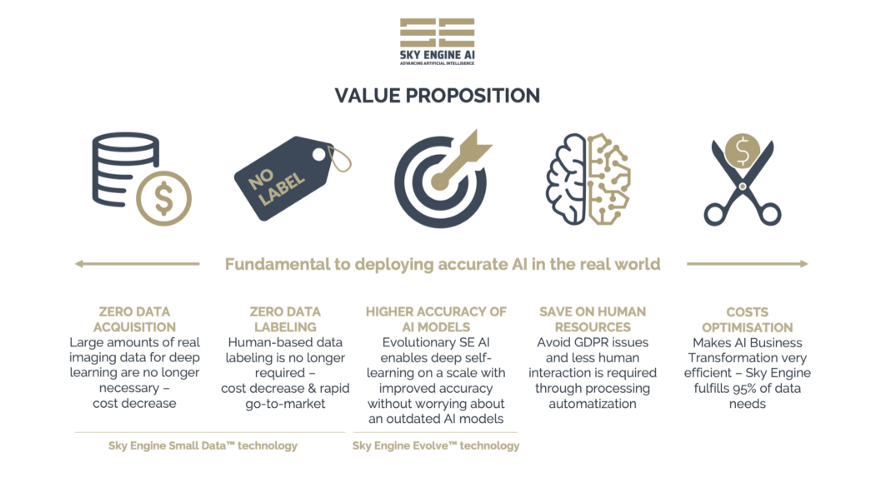 The software offers randomization of several parameters, depending on the use case, and it can generate both static images and videos (e.g., for autonomous vehicle usage like drones). The camera angle, lighting, resolution, background, motion trajectory and other factors can be randomized and shuffled, allowing for a well-balanced training data package.
Tailored AI models support many use cases, such as radiology diagnostics, technical inspection of railway, structure recognition, autonomous mobility, and many others. Many kinds of imaging as well as different modalities and sensors can be simulated: radars, lidars, IR, X-rays, and obviously visual light.
Moreover, the software can diversify learning data through simulation of rare or ambiguous situations. As a result, training neural networks with the use of SKY ENGINE AI is a more cost- and time-effective solution and ensures improved accuracy.
##The market
The market for training dataset market is growing, with new uses seemingly found every day. According to Grand View Research companies are already spending more than $1,5 billion annually on training data generation, and according to the analysts, this number shall grow with CAGR of 22,5% by 2027 and will reach $4,8 billion (source). By 2024, Gartner predicts that 60% of data utilized in the development of AI and analytics projects will be synthetized (source). By 2030, synthetic data will overshadow real data in AI models. SKY ENGINE is poised to lead this incredible growth with its transformative technology, which can also be endlessly developed, allowing it to be adjusted for a virtually infinite number of new use cases.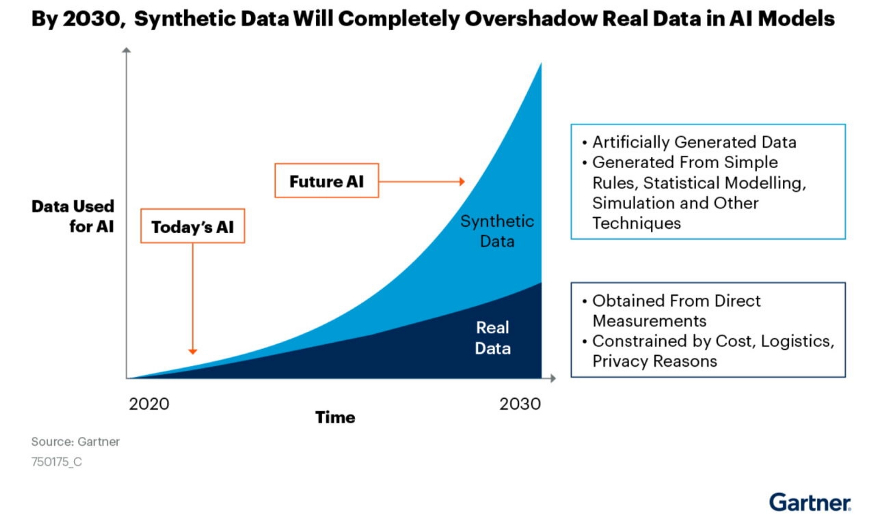 There are no obvious leaders in the industry yet, and SKY ENGINE has little direct competition at the moment. Some competition sells combination of real-life and synthetic data, while others build their products based on gaming engine solutions, but they lag behind the SKY ENGINE AI technology-wise. Moreover, most of the competitors like Bit TS or Chooch do not share SKY ENGINE's SaaS business model; they are focused only on delivering end to end services.
While in the case of SKY ENGINE's SaaS platform, the client will license the training software itself, allowing them to train their networks in-house with little need for engagement from the vendor. Thus, SKY ENGINE's platform can disrupt the industry and gain leadership in technology and the market share, while the market is sure to grow. Therefore, the future for SKY ENGINE looks bright, and it has already secured several blue-chip partnerships, such as Nvidia, and Microsoft.
##The team
SKY ENGINE was founded by Jakub Pietrzak and Dr. Bartek Włodarczyk. Jakub now serves as the company's CTO. He's a software engineer and physicist with a varied background in neural networks, visual data and medical imaging. Jakub has over 15 years of experience in machine learning, ray tracing, and digital image processing. The founders established SKY ENGINE after exploring the topic of training neural networks on synthetic data during their doctorates.
The startup's CEO is Dr. Bartek Włodarczyk, a medical physicist and healthcare entrepreneur with more than 17 years of experience in radiotherapy and imaging in oncology. Dr. Włodarczyk holds a Ph.D. in Medical Physics and has been responsible for clinical solutions in leading radiotherapy enterprises in Belgium and Sweden. The R&D team is rounded up of software engineers, data scientists, researchers and 3D generalists with backgrounds ranging from robotics to gaming and art.
##So that's why
When it comes to new investments, we at Movens VC follow a strict formula. SKY ENGINE checks all the boxes with flying colours — they have developed an immensely scalable, innovative technology that can shake up a large and growing industry, packaged as a SaaS solution with potential for global leadership. SKY ENGINE has the industry-leading tech, an experienced team and a growing partner base. Furthermore, our co-investor in the latest round was the renowned German evergreen fund High-Tech Gründerfonds Fund (HTGF), which currently has close to EUR 1 billion under management.
With a strong focus on deep-tech and AI, as well as prominent corporate investors such as SAP and STIHL, they share our belief in the vast number of use cases and the potential for value creation across a wide range of industries. All of this makes for a bright future. Knowing this, we couldn't pass up the chance to invest in SKY ENGINE.
— — –
If you are building a startup in CEE and this story appeals to you, be sure to reach out to us: https://movenscapital.com/pitch-us/
Movens VC is an early-stage, Warsaw-based fund investing in tech companies with global potential. The fund's capitalization is EUR 14M with the ticket in one company up to EUR1 M. As ex-entrepreneurs, we support the most ambitious Polish/CEE founders in the first stages of building European and global technology diamonds on a partnership basis.
We focus on startups that will revolutionize traditionally large industries, mainly through machine learning and artificial intelligence (AI/ML). Our preferred sectors are fintech, e-commerce & customer support solutions, martech, edtech, health, industry 4.0, and deep tech.